Mold Inspections for Central Illinois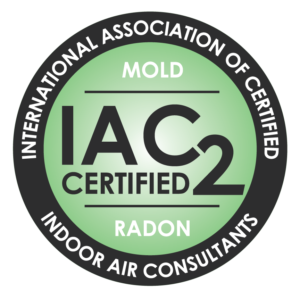 Mold is almost always caused by unchecked indoor moisture, but mold growth can be easily prevented by controlling and monitoring the levels of moisture you have in your Champaign and Bloomington home.  Mold spores are known to spread quickly, so it is absolutely vital that you assess and treat your mold problem before it gets out of hand.  That's where we come in!  Healthy Homes Inspection Services has performed many mold inspections all over Central Illinois, and we specialize in your satisfaction!  To get the peace of mind that only a complete mold inspection can bring, call us at 833-330-6366 for your free quote!
As an Indoor Air Quality Professional (IAC2), Healthy HOme Inspections can help guide our client's decision-making process on the right mold inspection to perform.
Identifying the type of mold evaluation needed and reasons for a mold test are the first step on deciding how to proceed.
Some reasons for a mold evaluation could be: perhaps a musty odor was noticed in the home; a water stain or unknown spot was identified and further evaluation would be warranted; or perhaps healthcare or allergy concerns.
We provide 2 types of mold evaluations.  A complete mold evaluation or a limited mold evaluation.
A complete mold evaluation consists of a visual evaluation of the entire home for moisture issues and staining. It also includes several mold samples, such as 1-2 exterior air samples (needed as a control to establish a base level of spores), as well as 2-4 interior air samples in the living spaces and at a HVAC ductwork register.  Additional swab or surface samples would be taken at any spots, where suspected substances were noted. 
We know that mold is everywhere, in every breath we take. So, with the air samples, the main goal is to help determine if the mold spore count is 'elevated' inside the home vs. outside the home.  If it is elevated inside, then we would have reason for further discovery of the potential source(s).  If the levels are the same or nearly the same, there is less cause for concern. 
A limited mold inspection would include a visual examination and include limited surface sampling taken to confirm weather a 'substance' is mold or not.  It could also include some limited air sample tests. If air sample testing is desired, a min. of 3 samples would need to be taken. (One for a control and 2 interior.) This is often the type of test chosen with a full home inspection.
Some additional considerations:
A swab test can identify the type of mold.
An air sample can determine the type and spore count.
Options:
1. Compete Mold Evaluation – Inspect the home for signs of moisture related issues and up to 5 samples
2. Limited Mold Evaluation – Inspect isolate areas of concern with up to 3 samples.
3. Individual Mold Sampling – If an air sample test is not desired and a suspicious spot is identified in the home, a surface swab sample can easily be taken and sent off to the lab for identification.
Mold exposure is no laughing matter and can have serious adverse effects on your health, including:
Dry Coughing

Sore or scratchy throat

Itchy eyes and skin

Worsening allergic reactions

Call 833-330-6366 for your free estimate!
Professional Champaign and Bloomington Mold Inspections
At Healthy Homes Inspection Services, we are qualified to perform a wide array of testing and inspection services throughout the Central Illinois area. 
Our locally hired and trained testing staff is qualified to execute all of our wide variety of services.
When they are dispatched to your home or property, they check every area thoroughly, including:
Air Sampling

Surface Sampling

Moisture Mapping

Intense Visual Inspection

And much more!
Water damage and mold growth can cause serious issues with your home's structure, insulation, and electrical wiring. In order to properly address any mold problems, the moisture issue must be located and fixed.
Healthy Homes Inspection Services for your Champaign and Bloomington Mold Inspections
One sure way to protect your Champaign and Bloomington home from mold and mildew contaminating your air quality is with a complete mold inspection from Healthy Homes Inspection Services. 
With our extensive experience and know-how, we are the number one inspection company since 2012.  Call us at 833-330-6366 for a free, no-obligation quote, or fill out the form below and we will contact you shortly.  Your next mold inspection is just a call away!
The Healthy Homes Advantage
Certified Master Inspector
Having helped thousands of home buyers with tough questions, our Master Home Inspector, Mike, will be able to help you to better understand your new home!
New Home Buyer Specialist
Breaking down the complexity of a new home is our specialty! We can help you walk away from your home inspection with an insightful understanding of your new home.
Home Support Resource
We provide customized resources to make your homeowner experience as successful as possible! From our library of DIY videos, and Free Consultation Services, to your personal, tailored Home Wizard App, you are sure to have the long-term support you need to be successful in home ownership!
200% Money Back Guarantee
After the inspection, if you're not completely satisfied and feel we did not provide a detailed inspection and great customer service, just let the inspector know.  We'll not only refund the inspection fee, we'll pay for another inspector to re-inspect the home!*
*Terms and Conditions
Exclusive 'Welcome Home' Package
As your dedicated building consultants, we've been working behind the scenes to help you save money. In our 'Welcome Home' package below, you'll be introduced to local professionals who we've worked with and trust! Even if you've been the the Central Illinois area your whole life, we're confident that you'll come to love and appreciate some of our 'favorite picks', as well!  Over $1150 in Discounts and Services and counting!